Various concept art projects featuring fashion dolls and fashion illustrations for Jada Toys, Apparel Dynasty, and other toy and accessory companies. 
Concept work for Jada Toys' Cutie Pops packaging designs. Initially they wanted to go with illustrated packaging, so I worked up thumbnails, sketches, and eventually the illustrations themselves.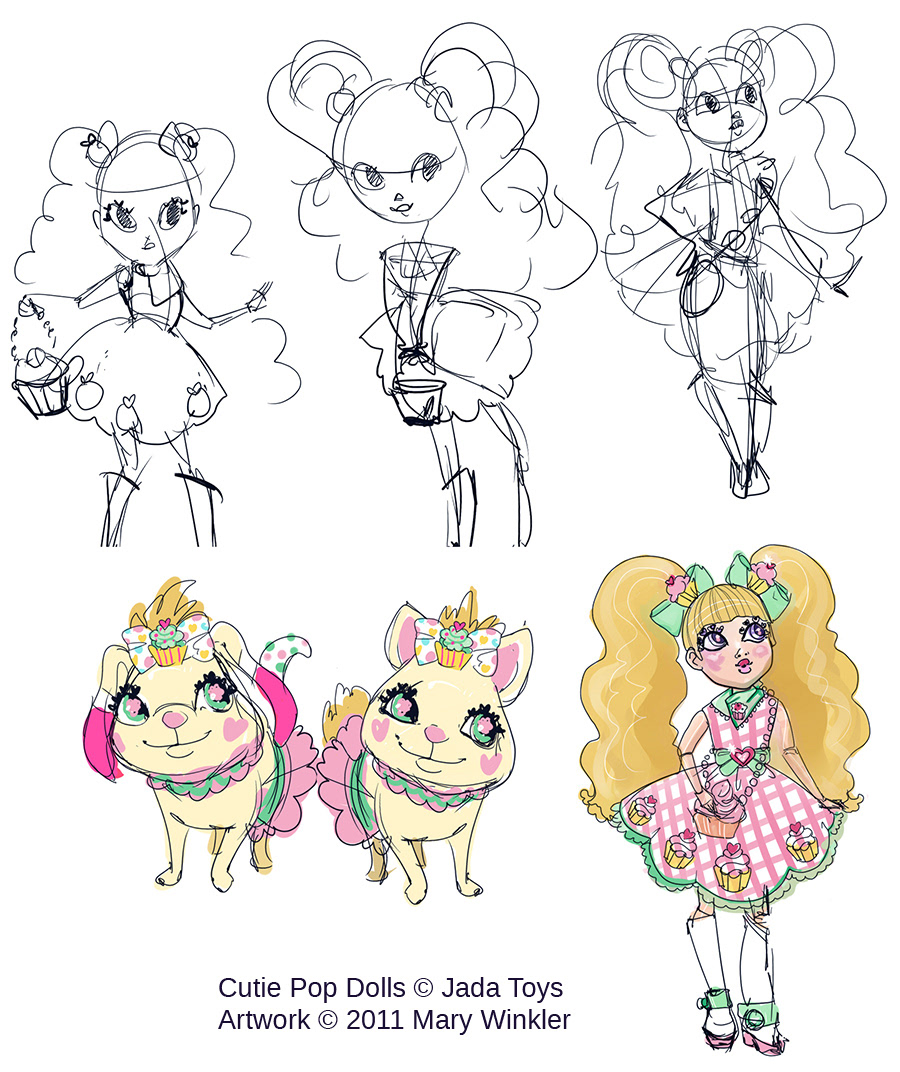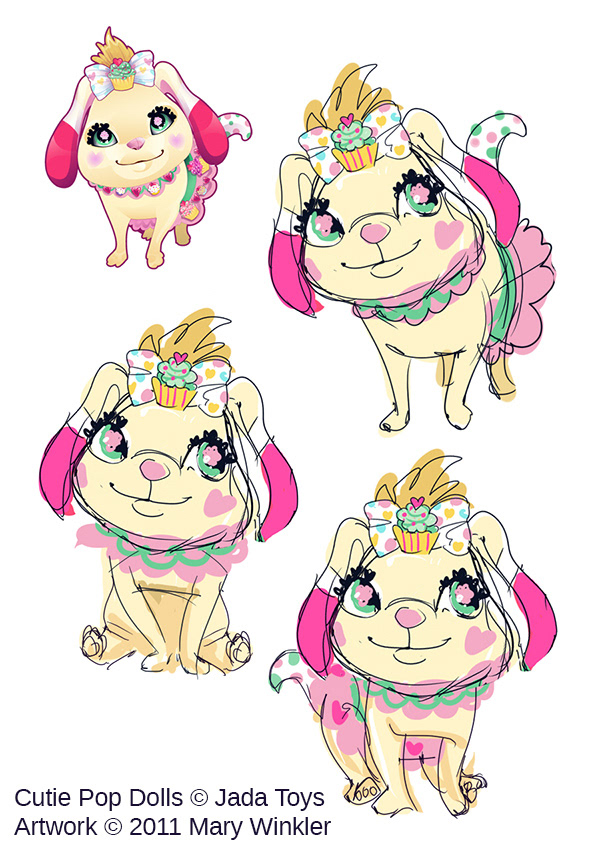 These vector pieces were modeled directly after the dolls themselves, with their large eyes, giant heads, and the doll's actual accessories/clothing. Each came with removable hair pieces and a cute animal friend.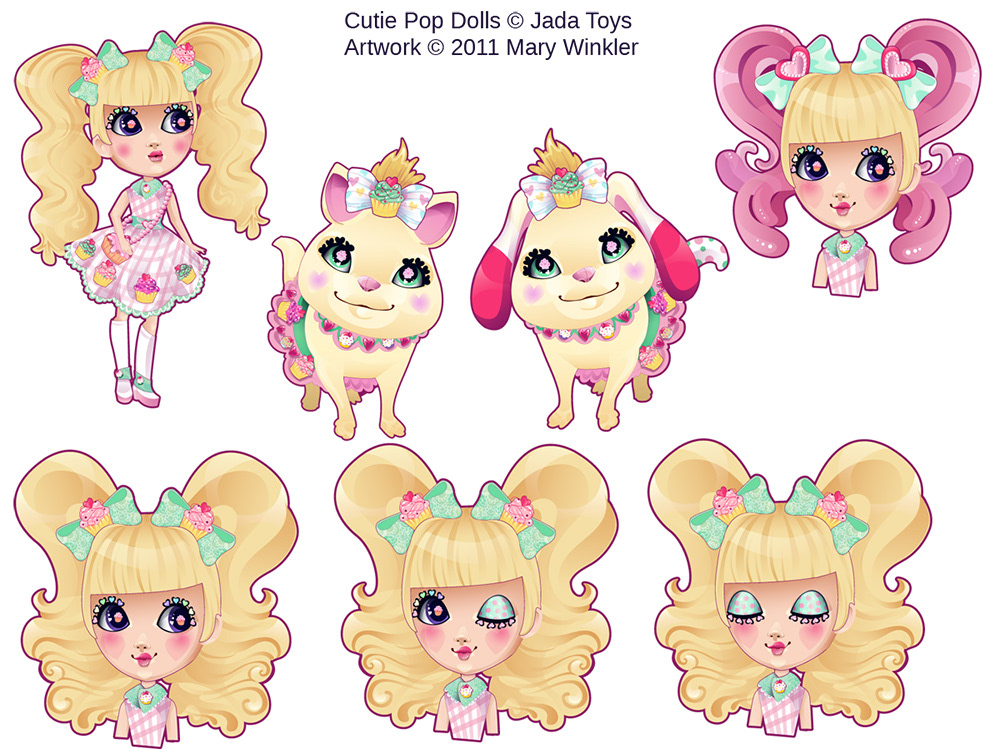 The project suddenly changed direction when higher ups wanted a sketchier version of the doll design for the box art. so I went back to the drawing board and came up with the designs seen below. After some time the entire idea of illustrated packaging was nixed. Originally I was going to be handling packaging designs for the entire line, but they settled on using photos of the dolls instead and minimal design work in-house.
I was contacted by Cassidy Park, who formerly worked at Mattel and in more recent years went on to do consulting work for various toy companies, to work on concepts for a Hello Kitty license with an unamed toy company. They idea was concepts for wheeled Hello Kitties.
I started with concepts for an artist's series. Somthing with little wheels in the feet but the main pull was the print and molding of each of the HKs.
These were deemed too edgey for their company.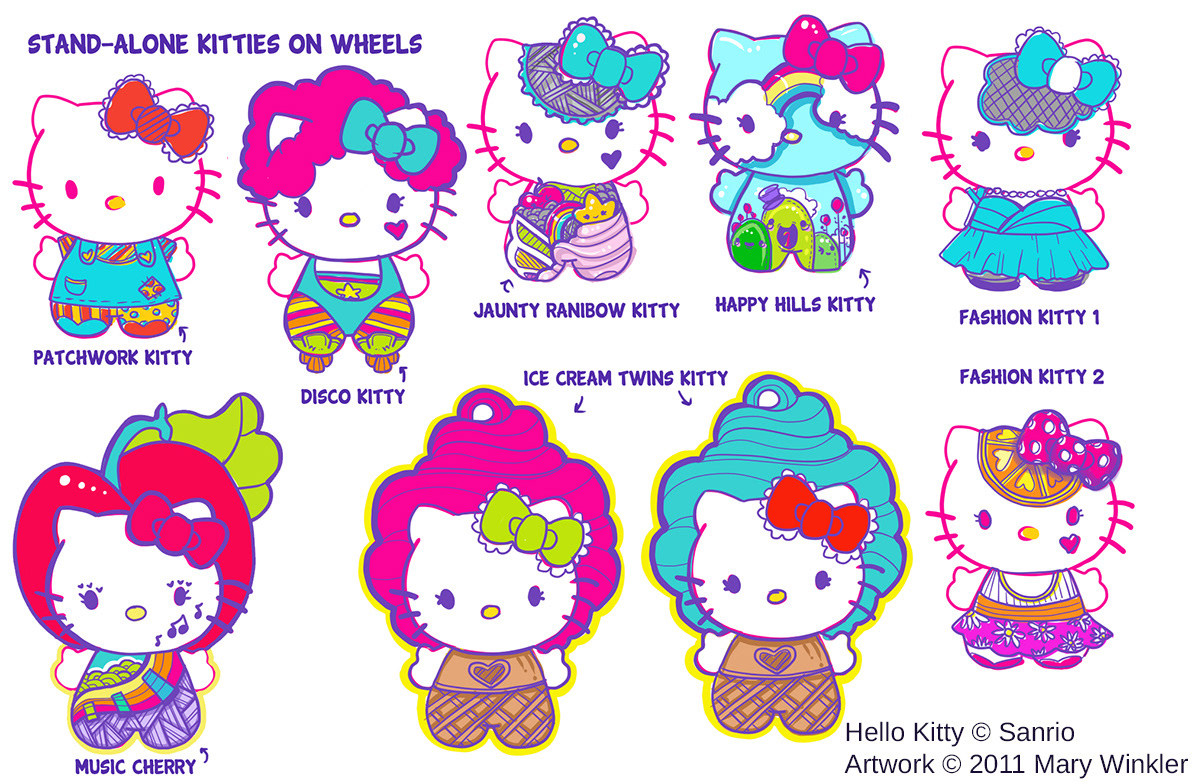 Other ideas during this concept run included various vehiles HK, a plain HK could ride in, including animals, bows, shoes, clouds, and more.

The concept of Hello Kitty with various hairstyles and hair accessories/beauty accessories was also bandied about.

The project's focus was moved to toddler toys and kept in-house after these rounds of concept designs.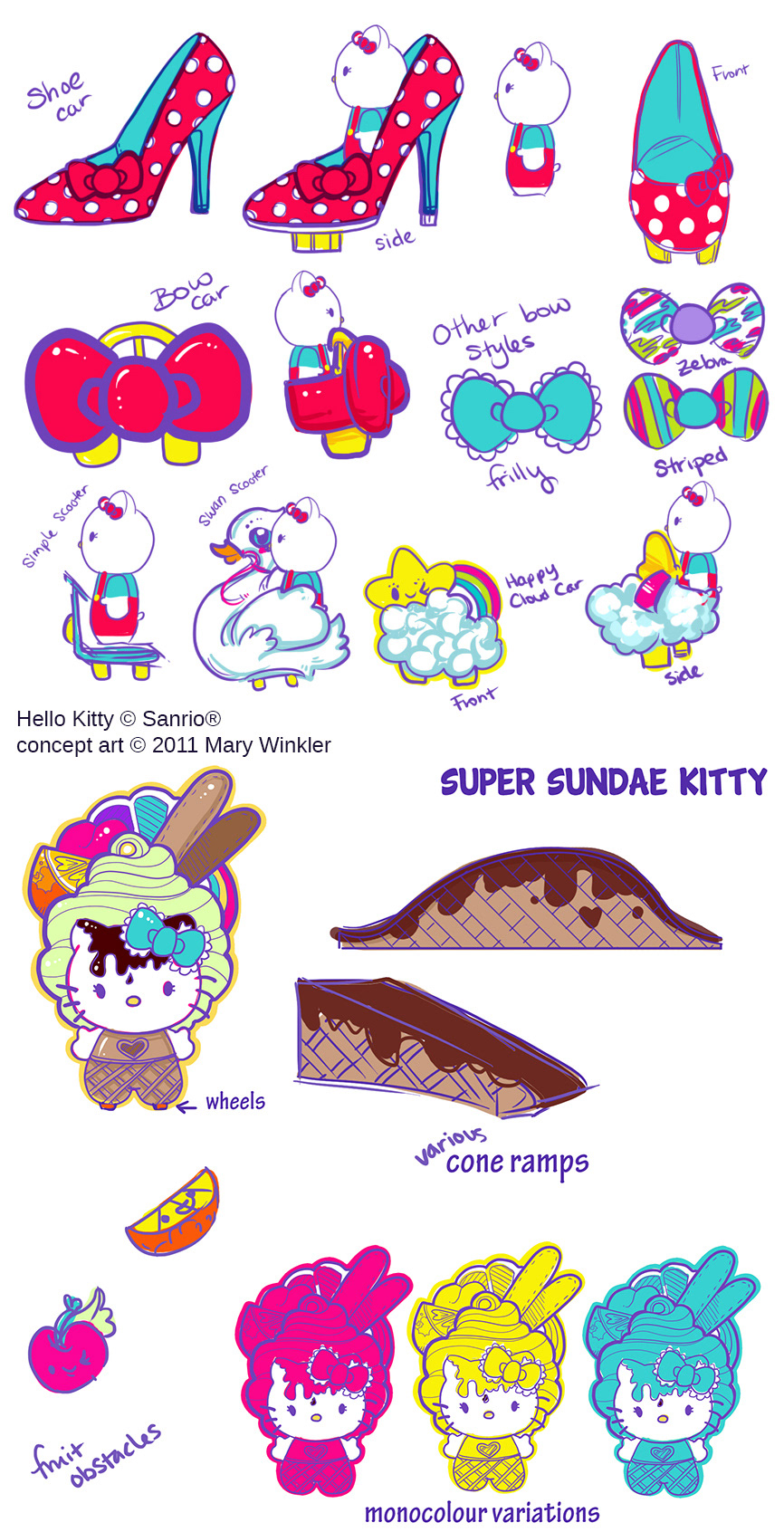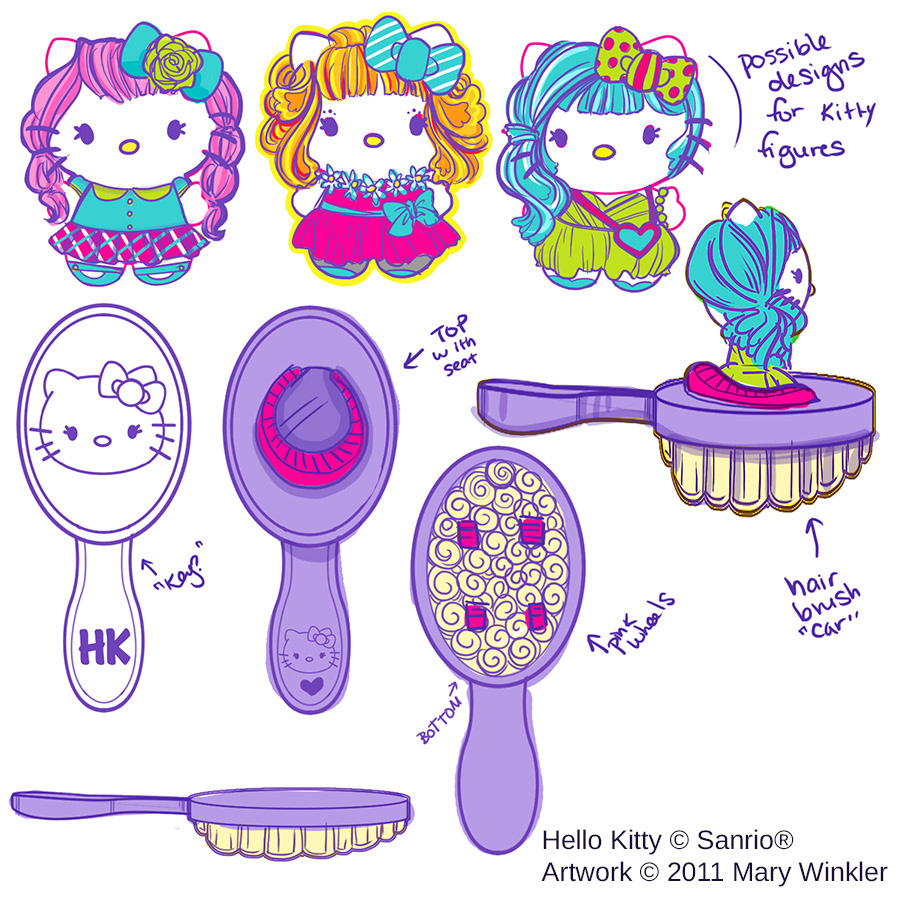 Illustration work meant to advertise Apparel Dynasty products. I ran through various character concepts and designs: tiny bodies, big heads vs. fashion figures.
Fashion figures won out and were used alongside photos of the real accessories in web and print ads (print ads used at trade shows).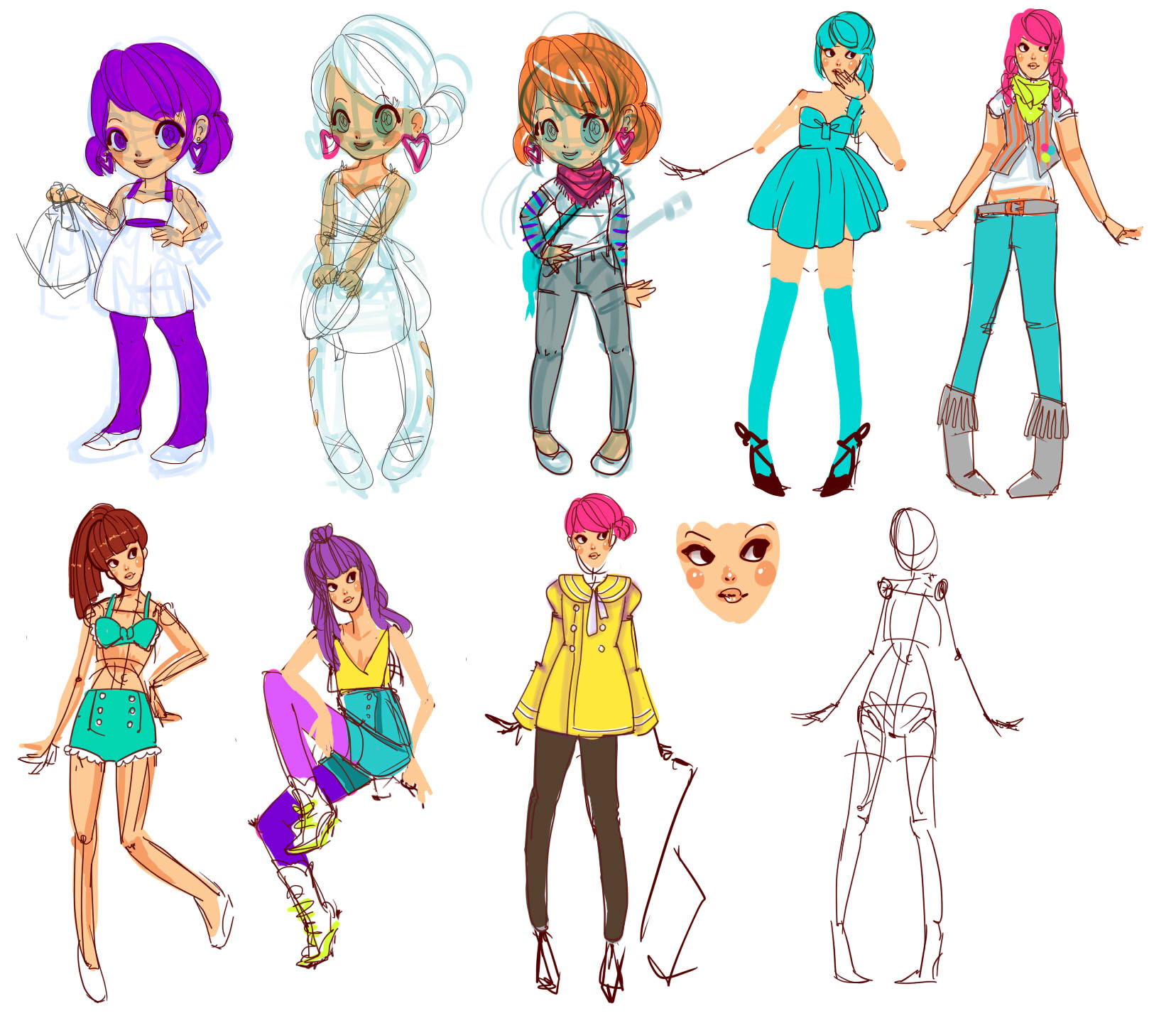 Some of these dresses were concepts for the Acrylicana line at Apparel Dynasty itself. A few of the concepts were sampled up, but as focus moved to shoes and scented laces, dresses and a larger line was put on the back burner indefinitely. these concepts were circa 2010.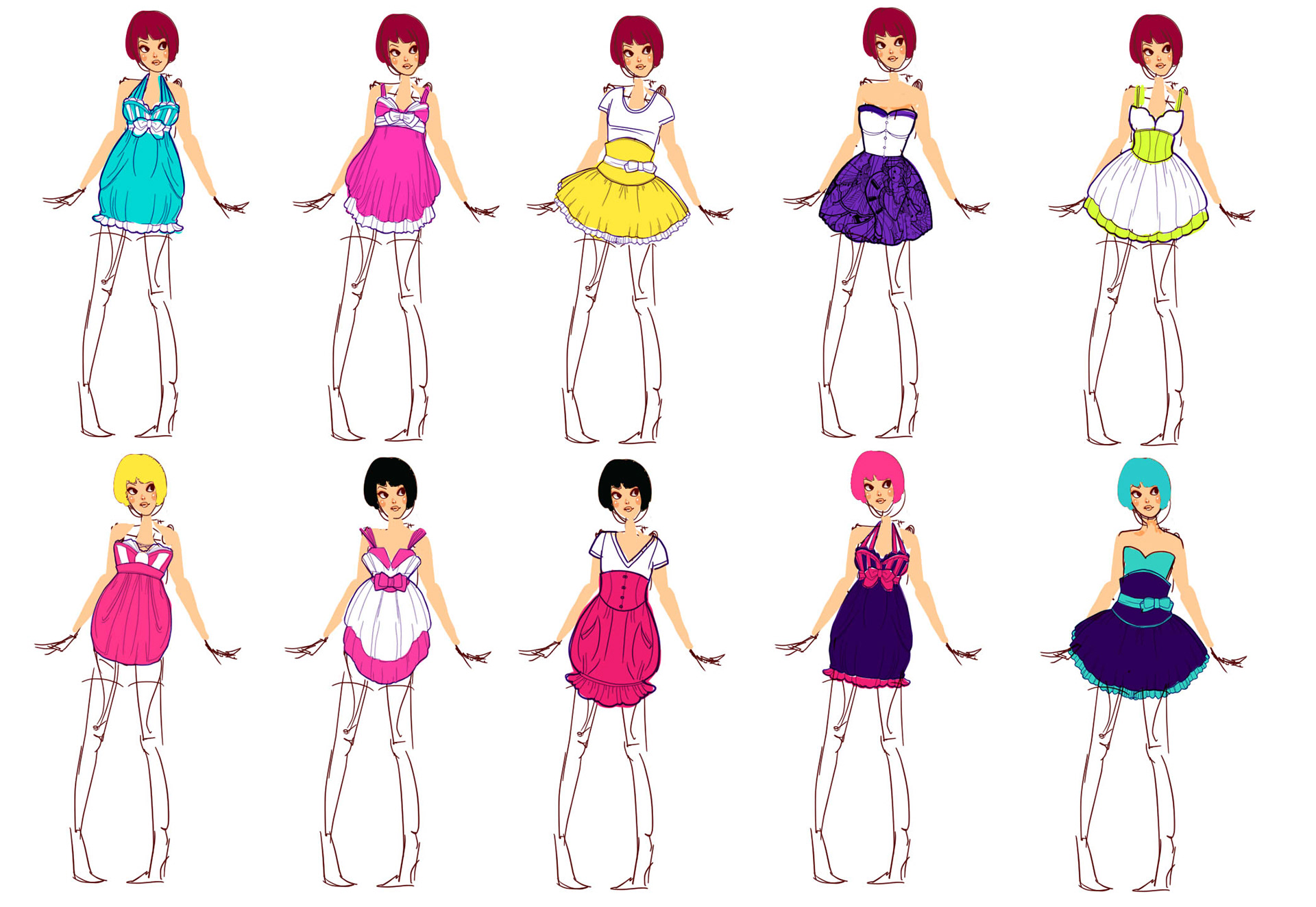 A drag-and-drop flash game was in the works for some of the retailers and advertising done on Apparel Dynasty's website itself. The main idea was to utilize the fashion figures created for the company's advertising and create additional clothing designs, along with Acrylicana products produced by Apparel Dynasty, featuring retailers. In this case, this was to promote the shoelaces and other products carried by Sidecca (whose overall style, as a shop, has changed since then).

Before this went ahead a game based on the shoelace brand was created (by me, in AI and Flash) and used on the Scented Shoelaces website. Additional games were placed on the back burner while retailers were focused on and the shoelaces pushed more than other products.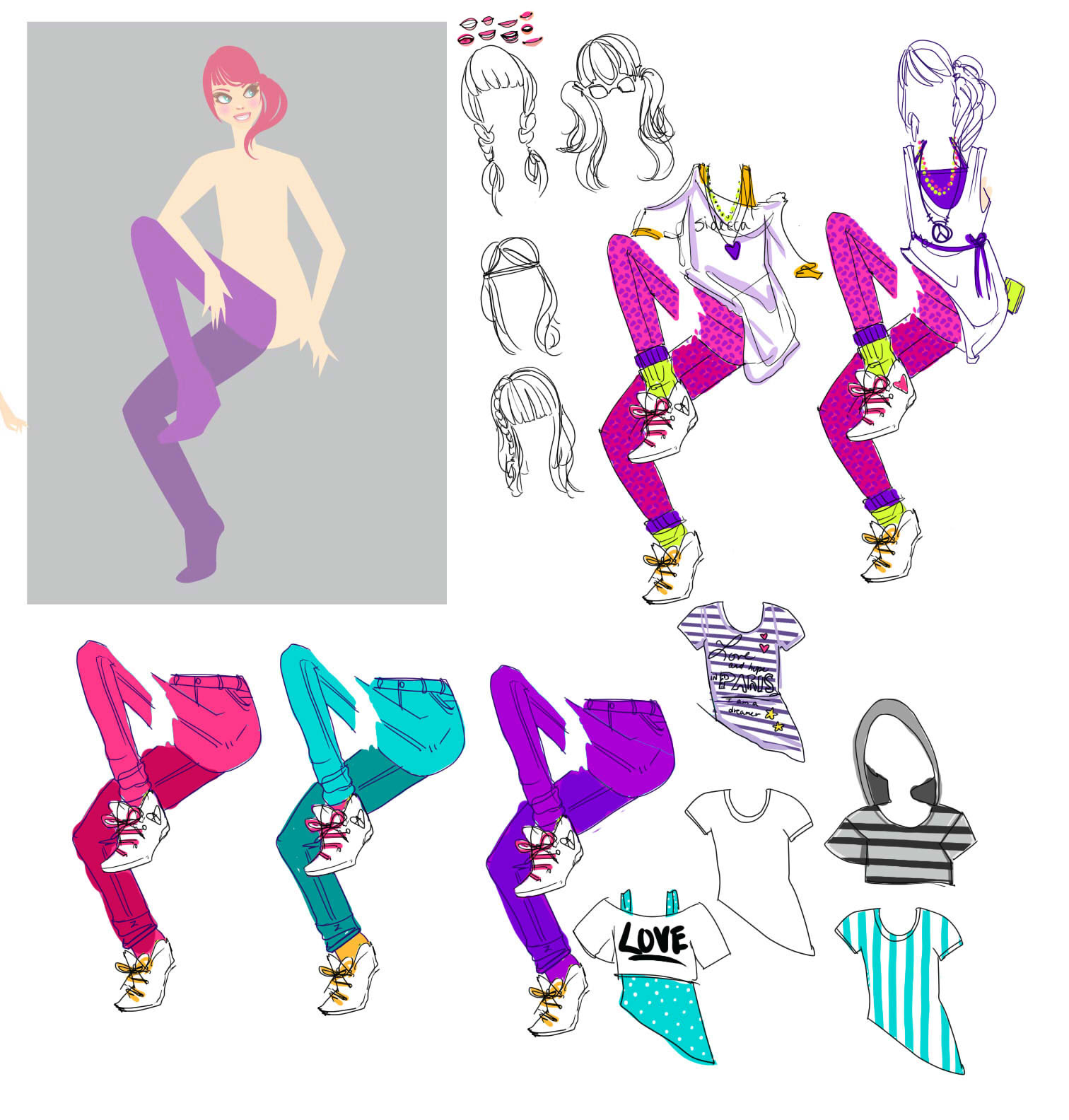 Finally, Another loose concept for a print, poster, or paper doll-style game to be pitched by Apparel Dynasty on behalf of Acrylicana to Nicki Minaj's reps and management team (or a small list of other popular fashion-forward celebrities at the time -- Kesha, Katy Perry, and some girl groups from LA were also bandied about for the initial concepts) as a part of a package including Acrylicana goods that she'd promote (back in 2010-2011).
The main idea was creating a "mini Minaj" doll (or a mini Katy, or mini Kesha), and the loose concept work is seen below. Final work would include her likeness, but the deal had to be solid for that to continue, so instead, a stand-by design was created for the intial stages and pitch.
The project did not go forward for whatever reason -- likely funding unsecured by Apparel Dynasty to purchase licenses and fees for Nicki to rep the brand.